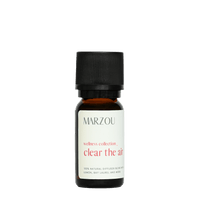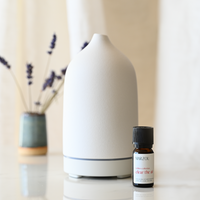 Clear the Air Diffuser Blend
This plant-powered blend of antimicrobial oils is formulated to help prevent the spread of a range of pathogens. Herbal, refreshing and a little spicy: let's clear the air!
- Cleansing and refreshing diffuser blend
- Lemon, eucalyptus, orange, bay laurel, rosemary, cinnamon leaf and thyme
- 100% natural, pure and organically sourced
- In amber glass dropper bottle
Citrus Limon (Lemon) Peel Oil*
Eucalyptus Globulus (Eucalyptus) Leaf Oil*
Citrus Aurantium Dulcis (Orange) Peel Oil*
Laurus Nobilis (Bay Laurel) Leaf Oil*
Rosmarinus Officinalis (Rosemary) Leaf Oil*
Cinnamomum Zeylanicum (Cinnamon) Folia Oil*
Thymus Vulgaris (Thyme) Flower/Leaf Oil*
* organic sourcing
Diffuse: add 2 - 5 drops in a diffuser, aroma burner or dry piece of wood/stone according to the size of the room and preferred scent intensity
Inhale: place the open bottle under your nose and take a few deep breaths for a refreshing moment

Do not use internally, in the eyes or undiluted on the skin. Be careful around young children and when pregnant/breastfeeding. Store dark, dry and out of reach of children and pets. If accidentally swallowed, seek medical care.
We ship all over Europe and always provide a tracking link, so you know when to expect your package! Orders placed before 1pm are shipped the same day.

Zone 1: The Netherlands
Shipping fee: €4,-
Free shipping on orders over: €30,-
Delivery window: 1 - 3 business days

Zone 2: Belgium | Germany
Shipping fee: €6,-
Free shipping on orders over: €50,-
Delivery window: 1 - 4 business days

Zone 3: Austria | Denmark | France | Luxembourg | Poland | Sweden
Shipping fee: €8,50
Free shipping on orders over: €75,-
Delivery window: 2 - 5 business days

Zone 4: Bulgaria | Croatia | Czeck | Estonia | Hungary | Italy | Latvia | Lithuania | Portugal | Romania | Slovenia | Slovakia | Spain | UK
Shipping fee: €14,-
Free shipping on orders over: €100,-
Delivery window: 2 - 8 business days

Zone 5: Finland | Greece | Ireland | Malta | Norway | Switzerland
Shipping fee: €20,-
Free shipping on orders over: €100,-
Delivery window: 2 - 10 business days

Please note we're not responsible for import duties/taxes. If you're located outside of the EU, please make sure you've checked the import fee that applies to your situation.

Returns
Not satisfied with your product? Email us at hello@marzou.com and we'll be happy to find a solution! 

Read our Return policy here