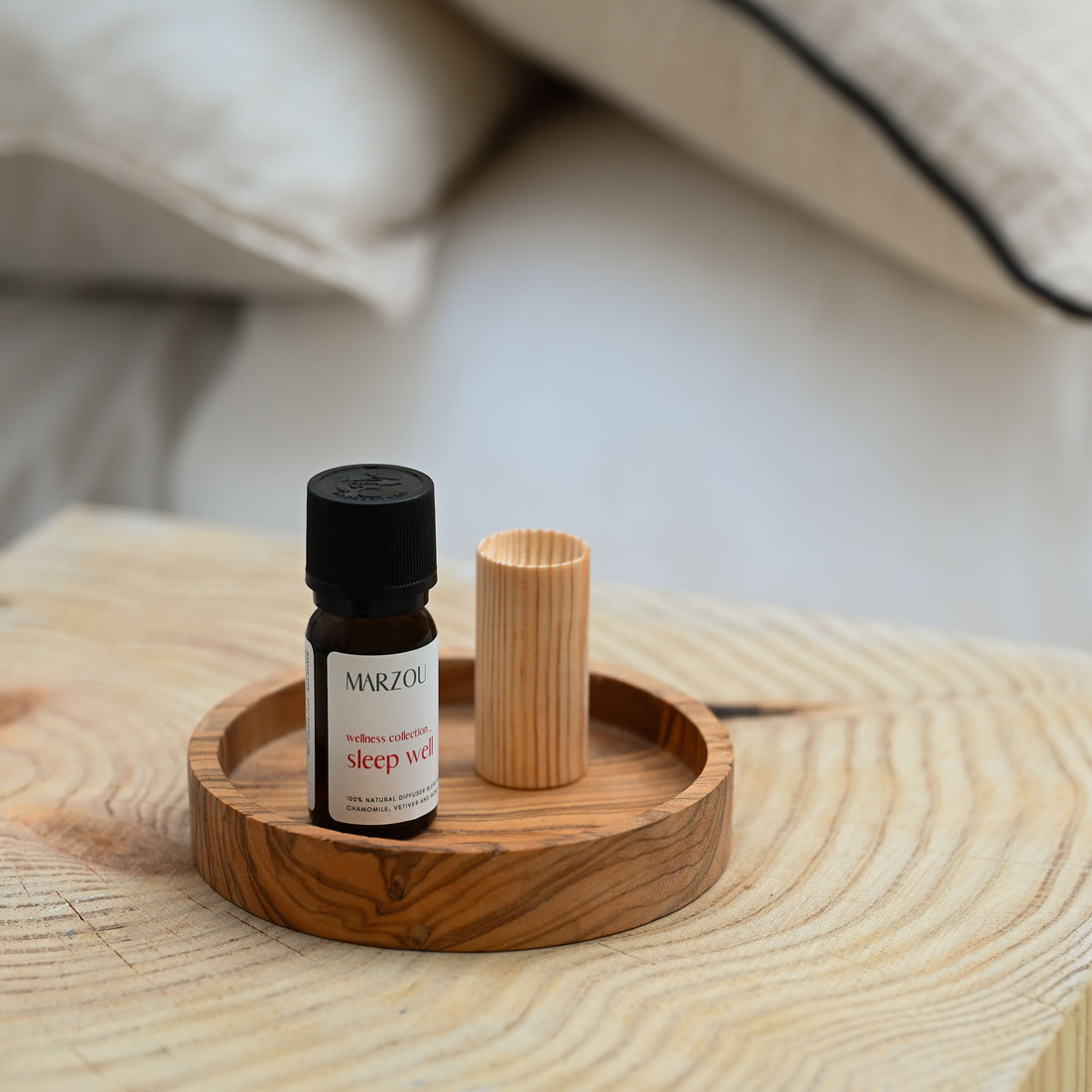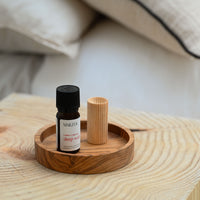 Having trouble falling asleep? Ease your mind and body into the night with this calming, stress-releasing blend of botanicals and let the flowery, earthy scent transport you to a restful night's sleep. 
- Relaxing and soothing diffuser blend
- Complements your nighttime routine
- Mandarin, lavender, olibanum, roman chamomile and vetiver
- Includes Sleep Well diffuser blend 10 ml, a wooden aroma diffuser and gift box
Sleep Well diffuser blend
Citrus Reticulata (Mandarin) Peel Oil*
Lavandula Angustifolia (Lavender) Oil*
Boswellia Serrata (Olibanum) Oil*
Anthemis Nobilis (Roman Chamomile) Flower Oil
Vetiveria Zizanoides (Vetiver) Root Oil*

* organic sourcing

Wooden aroma diffuser
Handmade using PEFC certified pine wood.
Height: 46 mm
Diameter: 22 mm
Add a few drops of the Sleep Well blend to the bowl of the wooden diffuser. The wood absorbs the oil and slowly releases the scent over time.
Keep in mind that the oil permeates to the bottom too, so it's adviced to protect the surface beneath.
If you want to use this diffuser for different blends too, leave 24 hours in between so the wood can release the remaining scent.
We ship all over Europe and always provide a tracking link, so you know when to expect your package! Orders placed before 6pm are shipped the same day.

Zone 1: The Netherlands
Shipping fee: €4,-
Free shipping on orders over: €50,-
Delivery window: 1 - 3 business days

Zone 2: Belgium | Germany
Shipping fee: €6,-
Free shipping on orders over: €50,-
Delivery window: 1 - 4 business days

Zone 3: Austria | Denmark | France | Luxembourg | Poland | Sweden
Shipping fee: €8,50
Free shipping on orders over: €75,-
Delivery window: 2 - 5 business days

Zone 4: Bulgaria | Croatia | Czeck | Estonia | Hungary | Italy | Latvia | Lithuania | Portugal | Romania | Slovenia | Slovakia | Spain | UK
Shipping fee: €14,-
Free shipping on orders over: €100,-
Delivery window: 2 - 8 business days

Zone 5: Finland | Greece | Ireland | Malta | Norway | Switzerland
Shipping fee: €20,-
Free shipping on orders over: €100,-
Delivery window: 2 - 10 business days

Please note we're not responsible for import duties/taxes. If you're located outside of the EU, please make sure you've checked the import fee that applies to your situation.

Returns
Not satisfied with your product? Email us at hello@marzou.com and we'll be happy to find a solution! 

Read our Return policy here