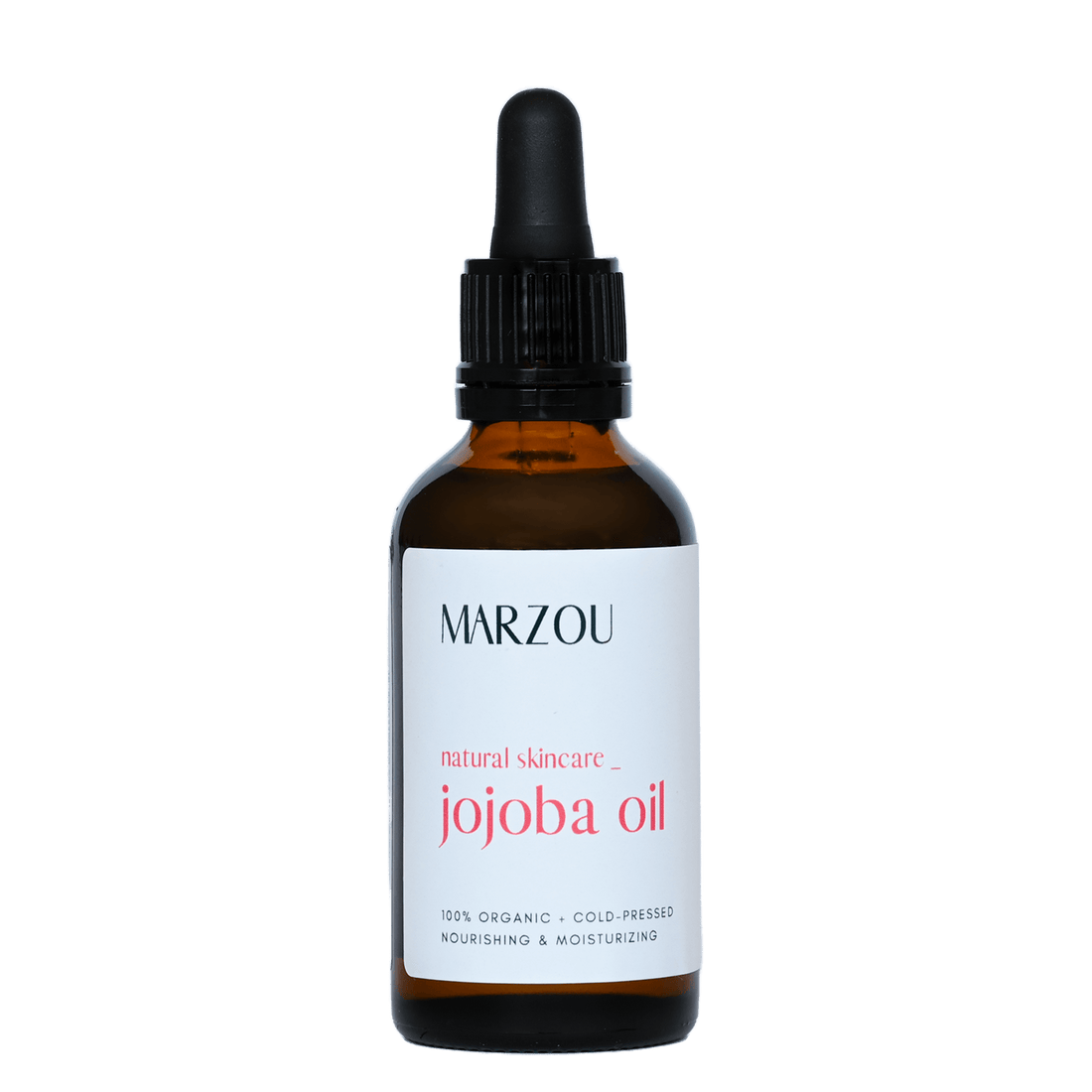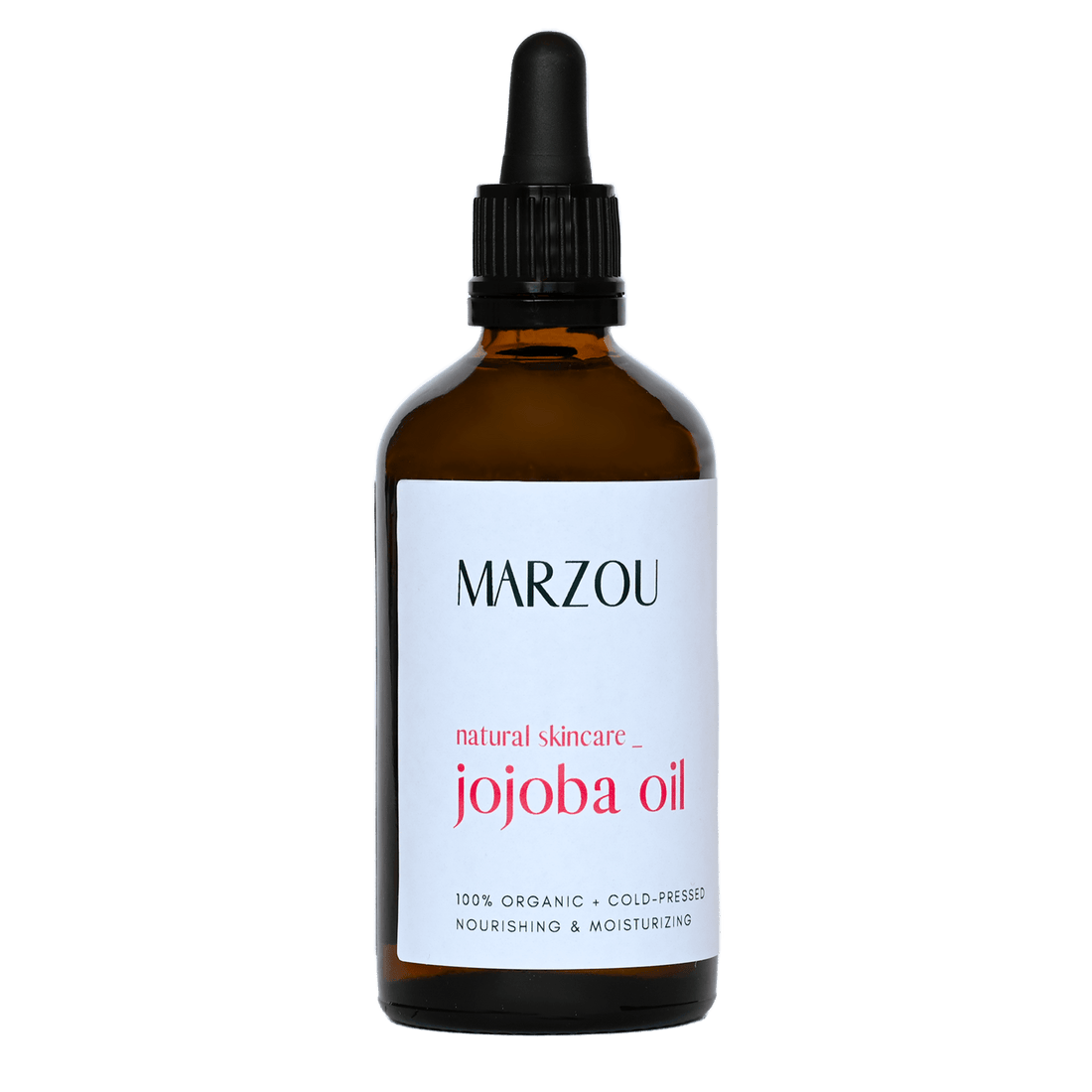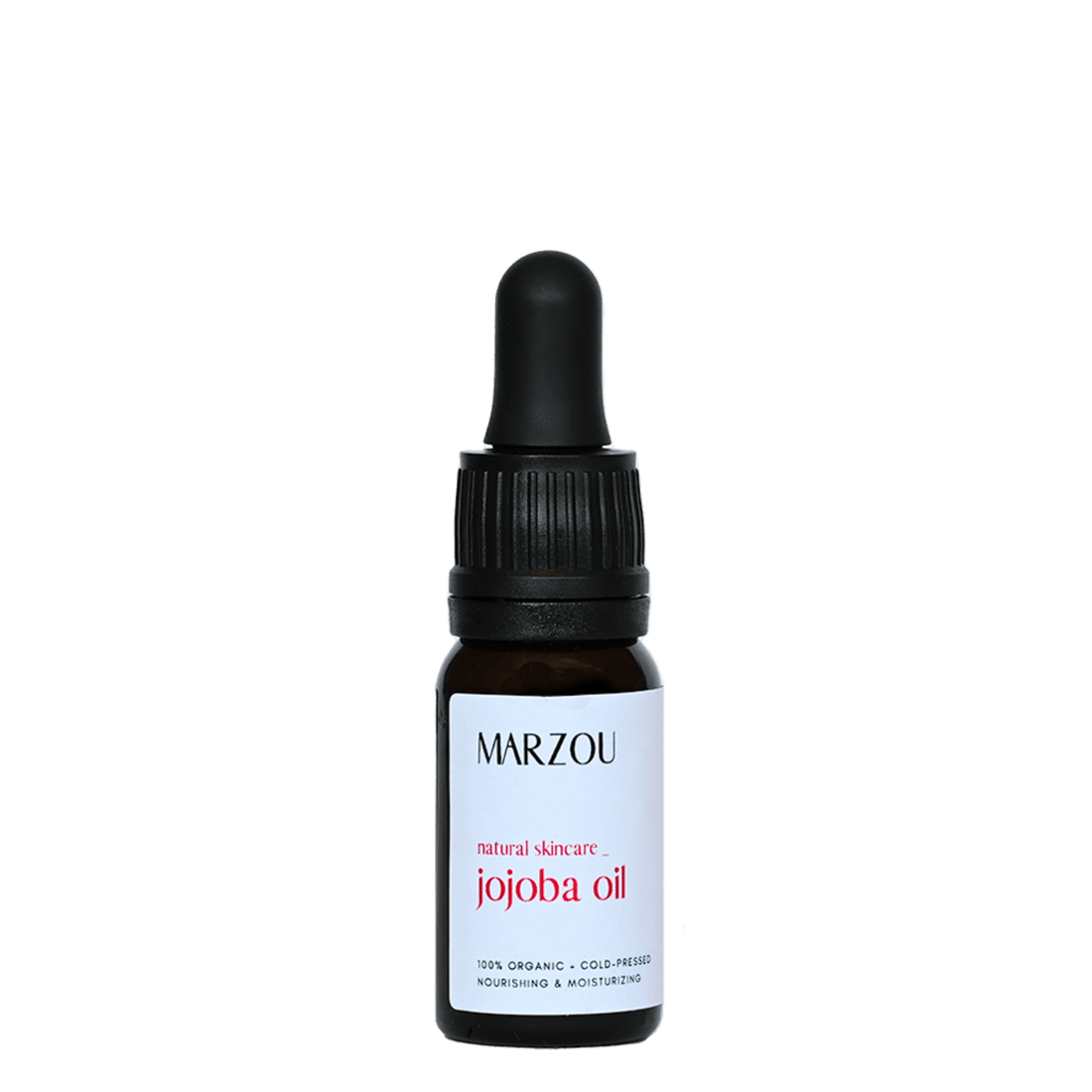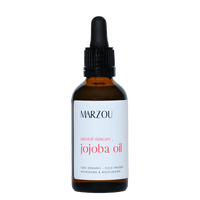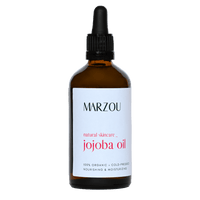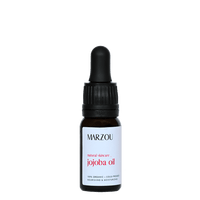 Organically sourced, 100% pure and closely resembling human sebum: jojoba oil nourishes your skin in the most natural of ways. Its moisturizing and anti-inflammatory properties make your skin feel calm, soft and hydrated. Luxuriously golden, jojoba shines in daily skincare, to treat dry spots on the body and as a protective hair oil. 
Marzou jojoba oil is pure, unrefined, vegan and certified organic. It comes in protective amber glass with a pipette dropper, and is also available as a 10 ml sample-size that's perfect for travel too.
Simmondsia Chinensis (Jojoba) Seed Oil
This jojoba oil is organically sourced, cold-pressed, virgin, 100% pure (without additives), vegan, and has been lab-tested for safety and potential pollutants.
Skincare: apply a few drops to clean skin and massage onto your face or body. Alternatively, add a drop to your day or night cream.
Make-up remover: massage a few drops onto your face and leave on for +- 1 min, then gently wipe off with a moist towel or cotton pad. 
Hair: rub a drop between your hands and apply to the ends of your damp or dry hair. For a nourishing hair treatment, massage a few drops into your hair +- 30 min before washing your hair.

Jojoba oil is only liquid at room temperature, if you notice it has solidified, place the bottle in a warmer spot before use.

Don't use internally, on broken skin or in the eyes. In case of a sensitive skin, apply a small patch first. Stop using if an allergic reaction occurs. Store dry, cool and dark, and out of reach from children and pets. Wipe off bottle neck after use to prevent buildup.
We ship all over Europe and always provide a tracking link, so you know when to expect your package! Orders placed before 1pm are shipped the same day.

Zone 1: The Netherlands
Shipping fee: €4,-
Free shipping on orders over: €50,-
Delivery window: 1 - 3 business days

Zone 2: Belgium | Germany
Shipping fee: €6,-
Free shipping on orders over: €50,-
Delivery window: 1 - 4 business days

Zone 3: Austria | Denmark | France | Luxembourg | Poland | Sweden
Shipping fee: €8,50
Free shipping on orders over: €75,-
Delivery window: 2 - 5 business days

Zone 4: Bulgaria | Croatia | Czeck | Estonia | Hungary | Italy | Latvia | Lithuania | Portugal | Romania | Slovenia | Slovakia | Spain | UK
Shipping fee: €14,-
Free shipping on orders over: €100,-
Delivery window: 2 - 8 business days

Zone 5: Finland | Greece | Ireland | Malta | Norway | Switzerland
Shipping fee: €20,-
Free shipping on orders over: €100,-
Delivery window: 2 - 10 business days

Please note we're not responsible for import duties/taxes. If you're located outside of the EU, please make sure you've checked the import fee that applies to your situation.

Returns
Not satisfied with your product? Email us at hello@marzou.com and we'll be happy to find a solution! 

Read our Return policy here
what is jojoba oil?
Jojoba (Simmondsia chinensis) is a shrub native to the desert areas of Mexico and the Southwestern US. The oil is harvested from the seeds by cold-pressing. Jojoba oil is not actually an oil in chemical composition, but a wax that's liquid at room temperature.